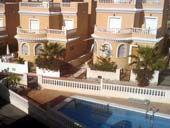 San Fulgencio Villa Rental
$250.00
• 3 bedrooms • 2.0 bathrooms
San Fulgencio, NC • 08/01/2011
San Fulgencio Holiday Villa: 3 bedroom villa offered for holidays, in the San Fulgencio, Costa Blanca, Spain. Accommodating up to six people, this property has 2 double bedrooms and a twin bedroom and would be an ideal property for a family holiday. The villa has the use of a shared pool and has a private garden for sunbathing, it offers views to nearby mountains and is only minutes drive from La Marina beach. Holidays in this terrific villa are offered from just £250 per week.
http://www.san-fulgencio.my-cos...
http://www.needahandspanishprop...

Posted by: Needahand
Located: San Fulgencio, NC
(No map found for this address)